Great Fredericksburg Coffee Shop – Tickers Coffee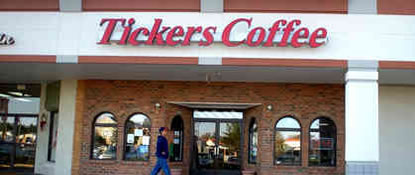 Part of what I hope to do on this website is highlight other local Fredericksburg area businesses. Starting my own solo law firm has given me a renewed respect for local entrepreneurs.
Since I'm a coffee lover, I like to try the coffee shops around Spotsylvania and Stafford Counties. Tickers Coffee is one of my favorites so far. Pablo Cuadrado runs Tickers, where he is competing against Starbucks in the Westood Shopping Center.
Pablo brews some great coffee over at Tickers. He serves a full line of espresso-based drinks, as well as all-natural fruit smoothies. I particularly enjoy his sandwiches, such as the "T Bill" (turkey).
If you're looking for a tasty beverage around West Fredericksburg, stop in at Tickers. Pablo will certainly treat you right and satisfy that caffeine craving.
Do you know any great coffee shops in Fredericksburg, Stafford, or Spotsylvania County?
Photo by Suzanne Carr Rossi / The Free Lance-Star