What Are the Penalties for Drug Paraphernalia Possession in Virginia?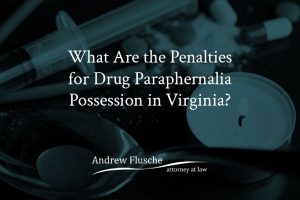 Even though possession of drug paraphernalia is a misdemeanor in Virginia, you should take this charge seriously.
A conviction for this offense, or any other misdemeanor charge, could have a significantly negative impact on your life.
You could go to jail, pay a hefty monetary fine, and face strict probation terms if you are found guilty.
Additionally, a conviction under Virginia law for possession of drug paraphernalia could leave you with a permanent criminal record.
Look to an experienced and knowledgeable Virginia criminal defense lawyer for help if the police bring possession of drug paraphernalia charges against you.
As a criminal defense attorney who dedicates his practice to misdemeanors, DUIs, and traffic offenses, I understand the impact drug charges like these could have on your life.
Together, we can create a defense strategy to get the best result possible for your specific case.
What Is Possession of Drug Paraphernalia?
When people learn that police charged them with a drug crime even though they had no drugs on them, confusion often follows. These people often ask, What is the charge for possession of drug paraphernalia?
The charge of possession of drug paraphernalia may be found in the Code of Virginia §54.1-3466. The law indicates that controlled paraphernalia possession or distribution is a Class 1 misdemeanor.
The maximum penalty for possession of drug paraphernalia is one year in jail and a fine of no more than $2,500.
The Commonwealth of Virginia, as the prosecution, has the burden of proving you guilty beyond a reasonable doubt of all of the elements of possession of drug paraphernalia before you suffer any penalty.
Therefore, the prosecutor has to prove the item meets the definition of drug paraphernalia and that you had possession of the item.
So let's discuss the legal definition of drug paraphernalia and possession.
What Is Drug Paraphernalia?
The Code of Virginia § 54.1-3466 covers a wide variety of items that Virginia defines as drug paraphernalia.
Some of the items listed in the statute are ordinary household items that many people use every day.
The difference between lawful and unlawful use of these items comes down to intent. Possessing hypodermic needles and syringes is permitted with a prescription. However, using them to inject illegal drugs is a crime.
Additionally, possessing gel caps, glassine envelopes, or any other container can be drug paraphernalia if the circumstances indicate that someone is using these items to package illegal drugs for manufacture, sale, or distribution.
The law defines circumstances that indicate when the listed items could be controlled paraphernalia.
The close proximity of drug paraphernalia to illegal drugs or other things associated with packaging drugs—like sieves, digital scales, strainers, measuring spoons, and presses used to facilitate drug distribution—is evidence of the intended use of the item as drug paraphernalia.
The statute further indicates that drug paraphernalia in the presence of drug additives or contaminants such as:
Procaine hydrochloride,

Mannitol,

Inositol,

Lactose,

Quinine,

Caffeine, and

Baking soda.
This list is not exhaustive. There are many other food additives and other ingredients that people mix with illegal drugs to have more "product" to sell.
What Does it Mean to "Possess" Something?
Possession means physically controlling something, like your cell phone or wallet.
You have actual possession because you have immediate control over your phone while using it. You have actual possession of your phone when it's in your pocket.
It seems obvious; however, possession can get a little murky if the item isn't in your pocket or otherwise on your person.
You can possess an item even if you do not have it under your direct control. This is known as constructive possession.
Having constructive possession over something means that you know approximately where the item is, you know what it is, and you intend to exercise control over it.
Here's a simple example: You have constructive possession of your car keys, even if they are not on your person but in your dresser drawer at home.
Even though they are not "on you," you know where they are, and you intend to exercise control over them. In other words, you can get them and use them when you need them.
This concept often comes into play in the context of paraphernalia found in a car. Suppose you share a car with your brother, who left drug paraphernalia in the car.
While you are using it, you get pulled over and charged with possession of that paraphernalia that officers found in the back seat.
Unless the prosecutor can show that the items belonged to you, that you knew they were there, and that you intended to exercise control over the items—they may not be able to prove constructive possession.
This might mean that the prosecutor has to drop or lower the charges against you. It might also indicate that we could take the case to trial and win a not guilty verdict.
Defenses to Possession of Drug Paraphernalia Charges
Each case stands on its own. Therefore, you can determine the best defense only after a thorough analysis of the facts of your case.
However, you might be able to claim that the item the police allege is illegal does not meet the definition of drug paraphernalia.
The things the police claim are illegal might be utterly innocent if there is no evidence to support their conclusion that you are using the items to distribute drugs.
That's just one part of the equation. The police must have evidence to prove that you had possession of the contraband, as discussed above.
I may use these defenses and others to give you the best chance of beating your case. For instance, I may examine the lawfulness of the officers' conduct.
You may have the right to argue the court should suppress all evidence seized because the police violated your rights.
I could use other defense tactics to minimize these charges' damage to your life. Sometimes negotiating a favorable disposition is better than standing toe-to-toe and battling it out.
I cultivate good working relationships with many prosecutors and judges in my area of Virginia. My reputation may help you obtain a favorable outcome.
Help Is Only a Call Away
Call me, Andrew Flusche, Attorney at Law, today at 540-318-5824 to learn more about possession of drug paraphernalia charges and your defenses.
You can rest assured that I will handle your case and not pass it off to anyone else. And it's incredibly easy to work with me.
We can get a great deal accomplished via email and the phone—which means you won't have to take time off of work or away from your family to get the results you want!
Contact us today, so we can discuss how I can help.