Can A Reckless Driving Charge Be Expunged?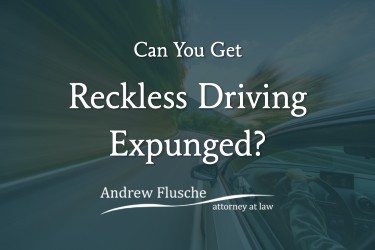 If you have been charged with reckless driving in Virginia, you may worry about how the charge will impact your life.
From fines and imprisonment to a criminal record, reckless driving can have far-reaching effects.
Many people want to know how to remove reckless driving from a record.
Unfortunately, Virginia law prohibits expungement for criminal convictions with a few exceptions.
Here, I will explain how to get reckless driving off your record and give you the best strategies for preventing this charge from having long-term consequences.
What Is Expungement?
Expungement is a legal process that destroys the records of a criminal arrest or charge. Expunging a criminal record gives the offender a fresh start. After an expungement, you usually do not need to include the offense on job or housing applications.
Who Can Receive Expungement for Reckless Driving Charge?
You may be able to receive an expungement, depending on the location and status of your offense. Can reckless driving be expunged?
In Virginia, criminal convictions usually cannot be expunged. However, you may be able to receive expungement in these circumstances:
You were acquitted;

Your reckless driving charge was dismissed;

Your name or identification was used without your consent by the person charged with reckless driving; or

You were pardoned.
So, can a reckless driving charge be expunged? Yes, but only in these limited circumstances. To receive an expungement, you must file a court petition in the jurisdiction where you were charged with reckless driving.
Even if you were acquitted of your reckless driving charge, a judge can still decline to expunge it. Therefore, you must hire a skilled criminal defense attorney to help you present a convincing case for expungement.
Contact Our Experienced & Knowledgeable Attorneys
If you've been charged with reckless driving in Virginia and want to see if you are eligible for expungement, contact our office today.
Who Cannot Receive Reckless Driving Expungement?
Unfortunately, it is difficult to receive a Virginia expungement because the State has strict criteria for this legal process. Even though it may not seem fair, you are not eligible for expungement in these circumstances:
You were wrongly convicted and haven't been pardoned;

You pleaded no contest; or

You pleaded guilty in exchange for a lesser conviction.
Since Virginia law makes it difficult to expunge a criminal record, you must take action before you are convicted of reckless driving.
An experienced criminal defense attorney can advise you on the best strategy for getting your charge reduced or dismissed.
Contact a Virginia Reckless Driving Attorney
You should contact a Virginia reckless driving attorney soon after your reckless driving charge. Your attorney can investigate the charge and pursue all available defenses.
Taking action before you receive a criminal conviction gives you the best chance of protecting your freedom and your finances. Though an attorney can explain how to get a reckless driving off your record, it isn't possible in most cases.
If you were acquitted or pardoned for a reckless driving charge, an attorney can help you request expungement. If a judge grants expungement, it will prevent this charge from interfering with your job and housing opportunities.
Though expungement can be challenging in Virginia, it can be worth the effort if you are eligible for expungement.
For help pursuing a Virginia expungement or defending yourself against a reckless driving charge, contact Flusche & Fitzgerald, Attorneys at Law, PLC.
Our law firm works exclusively with clients charged with misdemeanor and traffic violations. We will use our knowledge and experience for your best legal strategy.