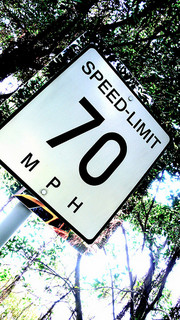 Some legislators in Virginia are attempting to loosen reckless driving laws. Though in 2010 speed limits on rural roads on Virginia Interstates 95, 64, 77, and 81 were increased from 65 miles per hour to 70 miles per hour, Virginia law still states that driving over 80 miles per hour constitutes reckless driving. That is, anyone doing 11 miles per hour over the speed limit in these areas would be charged with reckless driving. Delegate Joe Morrissey and Senator Dick Black, a Democrat and Republican respectively, have proposed bills to change that law.
The legislation would make it so that only those driving 20 miles per hour over the speed limit could be charged with reckless driving. This push in legislation is in response to the criminal records people would have with a reckless driving charge. Drivers in Washington, D.C., had it particularly bad because drivers who live in D.C. and are charged with reckless driving in any jurisdiction were having their licenses revoked. This happened to so many D.C. drivers that the D.C. Council ordered their DMV to more carefully analyze out-of-state cases before revoking the license.
The proposed legislation has currently garnered much support with Democratic lawmakers. Republicans, however, hold the House, and whether they currently support the bill is unclear.
photo credit: bredgur
Free consultation. Call me: 540.318.5824.
I provide free consultations for traffic tickets and misdemeanors in my area. If I can't help, I'll do my best to connect you with someone who can.
Free book for you
If you want more answers about your reckless driving ticket, grab a free copy of my book. We'll send it right over for free.
My book covers everything from the law to defenses to how to appeal if things go South. And I wrote it all myself, unlike some people who just slap their name on someone else's book.
More about reckless driving...