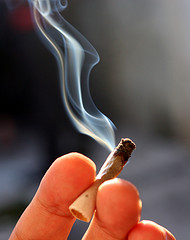 For a possession of marijuana case, the Commonwealth does not have to prove that you actually used marijuana. They don't have to prove that it was in possession in your body. All they have to prove it was in your possession. The normal way they prove that is by showing that they found it in your vehicle or that they found it in your pocket or something like that. They don't have to prove that you were actually smoking the joint; they just have to prove that you had control over it and that you knew what it was.
It's ironic that possession of marijuana is proven in the opposite way that possession of alcohol is proven. For an underage alcohol charge, typically the Commonwealth proves possession by providing that you drank earlier. However, there's no requirement that the Commonwealth prove you smoked marijuana.
Photo by:prensa420
Free consultation. Call me: 540.318.5824.
I provide free consultations for traffic tickets and misdemeanors in my area. If I can't help, I'll do my best to connect you with someone who can.
More about possession of marijuana...