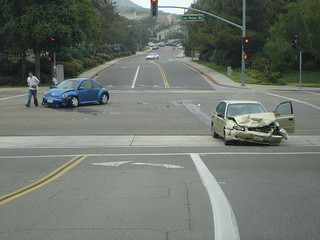 No. The accident report that the trooper or deputy prepared after you are involved in an accident in Virginia is really a tool for statistics for DMV. The report itself is not admissible in court because it's just a recorded recollection of what the officer saw. So the report itself is really just a summary of what the officer thinks happened in the accident. And again, it really is only transmitted to the Department of Motor Vehicles for their accident statistic purposes.
What really matters is what the officer says in court and especially what he testifies to under oath about the accident. The accident report itself isn't normally admissible at trial.
The only piece of the report that is sometimes used at court in some reckless driving and accident cases in Virginia is the page that has the little diagram of the accident. That's simply because a picture really helps sometimes for the judge to see where the vehicles were and where the impact allegedly happened. If the diagram is very inaccurate, I would definitely want to know about that. We could object to the judge viewing the diagram or at least point out our version of events.

Photo by: Travis Hornung
Free consultation. Call me: 540.318.5824.
I provide free consultations for traffic tickets and misdemeanors in my area. If I can't help, I'll do my best to connect you with someone who can.
Free book for you
If you want more answers about your reckless driving ticket, grab a free copy of my book. We'll send it right over for free.
My book covers everything from the law to defenses to how to appeal if things go South. And I wrote it all myself, unlike some people who just slap their name on someone else's book.
More about reckless driving...