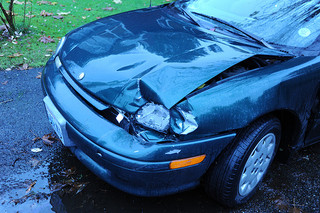 Some people are surprised when they're in a fender bender and the trooper gives them a reckless driving ticket. Sometimes the trooper has nothing else to charge other than reckless driving.
This typically happens when a driver rear-ends a stopped vehicle. The liability is usually clear – the rear-ender is at fault. However, a simple traffic charge like "following too closely" doesn't apply, since the second vehicle wasn't technically following the first. Thus, what can the officer charge?
In many situations like this, the officer has no other choice but to write a reckless driving ticket. It may seem harsh at the time, and sometimes the officer will even apologize for issuing such a hefty ticket.
The good news is that in fender bender cases, most judges are sensitive to the problem that the trooper has on the side of the road. And troopers are usually very cooperative in court, as far as agreeing to reduce the charges to something lesser than reckless driving (for example, improper driving or following too closely).
Even better, some judges might consider sending you to driving school to have the charge dismissed completely. That can be a great option to get rid of the ticket and keep your record clean.
While it seems like an unfair ticket to receive, we can hopefully navigate to a reasonable outcome in fender bender reckless driving cases.
Photo By: Wonderlane
Free consultation. Call me: 540.318.5824.
I provide free consultations for traffic tickets and misdemeanors in my area. If I can't help, I'll do my best to connect you with someone who can.
Free book for you
If you want more answers about your reckless driving ticket, grab a free copy of my book. We'll send it right over for free.
My book covers everything from the law to defenses to how to appeal if things go South. And I wrote it all myself, unlike some people who just slap their name on someone else's book.
More about reckless driving...