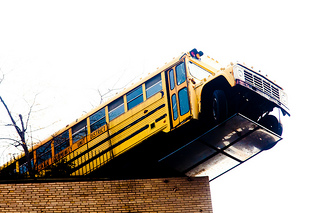 A Prince William County school bus driver has been charged with reckless driving after she crashed her bus and injured nine students. The driver, from Spotsylvania County, allegedly failed to stop at a stop sign when turning right. This resulted in a crash with a 1999 GMC truck. Nine teenage students and the driver were taken to the hospital; however, their injuries were minor.
The driver was given a summons for reckless driving. Meanwhile, the school spokesperson announced that she will not be driving her school bus and has been appointed to other duties until the case is closed.
This incident was soon followed by similar one. On December 23rd, 2012, a school bus driver in Vernon, Connecticut, turned herself in for an accident that occurred in April 2012 and injured 14 students. The driver allegedly clipped a utility pole while driving to a middle school, and the bus went off the road. Of the 29 students on board, 14 were sent to the hospital with minor injuries.
The driver, who initially denied taking medication before the accident, later admitted she did take prescription medication. She was charged with 29 counts of risk of injury to a minor and reckless endangerment as well as making a false statement to police and reckless driving.
As I've explained before, both drivers should seek counsel ASAP. Their careers are on the line, but there may be defenses to the charges.
photo credit: Thomas Hawk
Free consultation. Call me: 540.318.5824.
I provide free consultations for traffic tickets and misdemeanors in my area. If I can't help, I'll do my best to connect you with someone who can.
Free book for you
If you want more answers about your reckless driving ticket, grab a free copy of my book. We'll send it right over for free.
My book covers everything from the law to defenses to how to appeal if things go South. And I wrote it all myself, unlike some people who just slap their name on someone else's book.
More about reckless driving...